Christian Dior Handbags

Christian Dior designer handbags are greatly desired by women of taste and class. Upscale fashion and designer clothing have always been at the heart of a woman's shopping for clothing and accessories. Both functional and beautiful Christian Dior designer handbags are meant for the discriminating woman.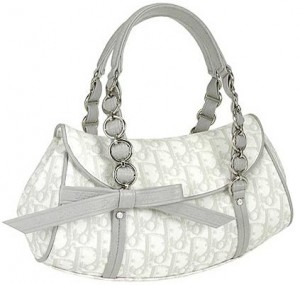 Christian Dior was born and raised in France, where he was also trained to become one of the world's greatest designers. Sadly, he passed on in 1957 at the age of 52 years old. This was after heading his own company for only 10 years. But to this day, Dior remains a staple of the fashion industry and everyone recognizes the name as meaning uniqueness and top notch quality. These are red carpet fashions and accessories.
In addition to a high price tag, every one of the Christian Dior handbags have a label sewn to the middle of the inner pocket. Only the top of the label is connected to the inner pocket. This label will look like a black triangle and will have continuous line of perfect stitching around it's perimeter.The back of this tag will state "Made in Italy". This is how you can tell the bag is a true Christian Dior designer handbag. There are other things to look for as well.
You have to keep abreast of the latest designs of Christian Dior handbags so that you can spot a fake. There are always pictures on the Christian Dior website. So how do you know if it isn't a genuine Christian Dior bag? First, if the cost of the bag is below $250, then you know for sure that's it's a fake. Also if the label says that the country of origin is other than Italy, this is another sign that it's an imposter. Christian Dior only uses quality stitches so shoddy stitches means it's an imitation. Ripples or dents in the material is another sure sign of an imitation. If there are misspellings in the label, it's a fake. Christian Dior only makes handbags with the utmost detail to craftsmanship.
The love and care put into these handbags is one of the main reasons that their prices are so high. And some of these do cost in the thousands of dollars.Rule of thumb is this, quality costs more. If you want only the best, you have to be willing to pay a little more for it. It has to be perfect to be a Christian Dior designer handbag. If, however, you do find a fake, you can report the site to the Better Business Bureau. You can also contact the designer's official site and report the fake as well. These bags stand out amongst the rest. These designer handbags might give you a shock at first when you what the prices run but these bags last for years and can be handed down as well. A generational handbag would be a nice heirloom. The Christian Dior designer handbag is true luxury in every sense of the word.